The Research
In 2018, our team first began exploring the reasons why people give, along with the reasons we don't. We also started looking at what was being done to address both of those factors, why we give and why we don't.
To capture some real data around these questions, we conducted a random-sample survey of approximately 251 individuals, giving us a +/- 6.312% margin of error. The results were simultaneously entirely unsurprising and surprisingly telling. And what we found pertaining to the reasons why people don't give, specifically, led to the efforts that we've been working on over the past 3 years.
Now that we have built new software with entirely new methods of church giving, we want to make public more information about our "why". Hopefully, this information can contribute to the "why" in your church's consideration of adding Connected Giving to the methods of giving and financial engagement available to your congregation.
Why People Don't Give
One of the first questions we asked in our survey was simply along the lines of, "Why don't you give to the things you otherwise support?" We asked respondents to check all of the options which applied to them, so that we could meaningfully capture the range of considerations individuals have which restrain their giving. Two response options stood out far above the rest.
All Respondents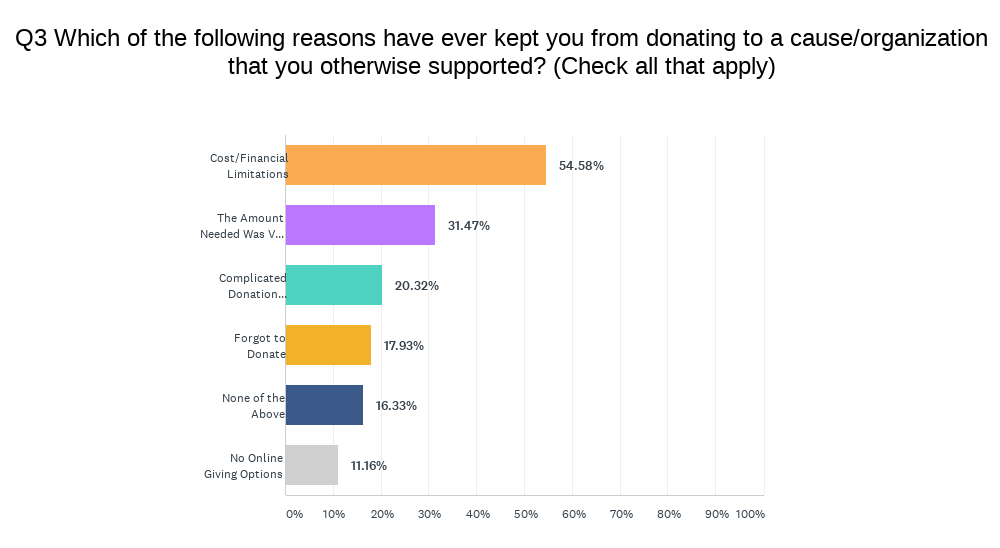 The full response options available to each survey respondent were:
Cost/Financial Limitations

The Amount Needed Was Very Big/How Much I Could Give Was Very Small

Complicated Donation Process

Forgot to Donate

No Online Giving Options

None of the Above
When we saw these initial results, our first thought was, "Is this the same for people who aren't giving?" So, we filtered down to individuals who haven't given to any organization within the last 6 months and, despite the bottom four reasons shuffling around a bit, the top two reasons remained clear leaders.
Respondents Who Hadn't Donated Within 6 Months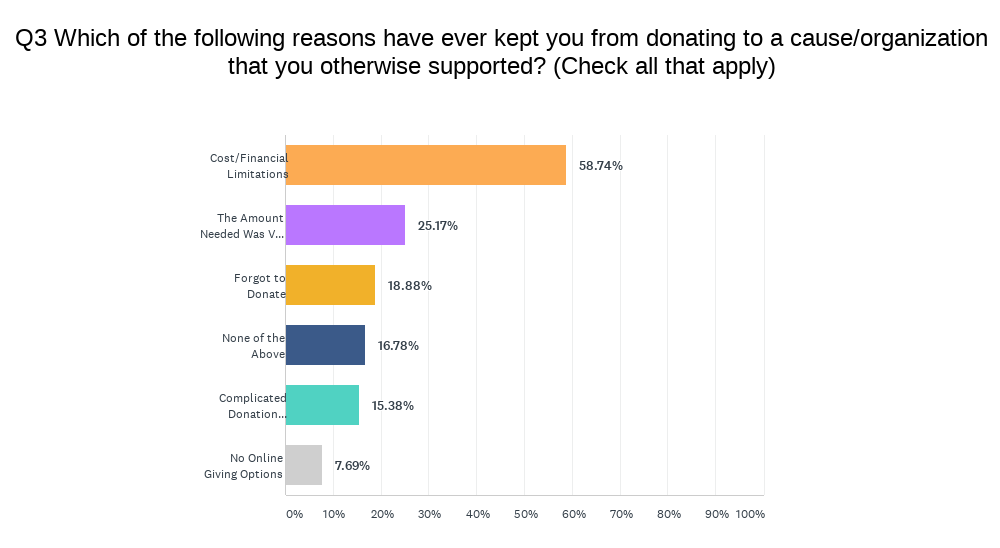 Essentially, people don't give (when they would like to) because of 1) cost perception and 2) futility thinking. There is a feeling among those with low-middle incomes that the small amounts they can afford to give simply don't matter.
The question with that knowledge now in our pockets, specifically for church leaders, is how do we respond?
How do we pursue, frame, and enable financial participation in our churches to help believers with varying finances or who feel "insignificant" in their capacity to give to simply participate financially in the story of the Gospel as they are able?
How do we reframe the focus from dollar totals to the decision of participation itself?
Our Response
These questions led to us embarking on a mission to create a giving experience that rectified these aspects of giving friction. Initially, we set out on this mission with no clear focus in terms of where we were applying it. We had an idea of "roundup giving" in mind, but it took us some time to realize roundups were a pretty neat mirror of "gleaning" as we see practiced in the book of Ruth.
With gleaning, Israelites had embedded generosity into their production. With roundups, people can embed generosity into their consumption. Either way, giving is tied to our economic activity in a manner that becomes part of our lifestyle (and emphasizes the power of small amounts).
We found that a decently large portion of respondents liked the idea of being able to roundup daily purchases to churches and ministries.

However, it was in the midst of COVID-19 that we realized there were more ways we could enable embedded giving in, specifically, the Christian life. As believers ourselves, we met with dozens of pastors, church leaders, and believers and utilized their insights to build an overall giving experience in which participation and embedded generosity was emphasized.
Now, giving would no longer be an intermittent action or a recurring background activity no more meaningful than a forgotten trial subscription now charging a $10 fee. No, now giving could be both recurring, accessible from any income level, and a visible and meaningful experience of faith and community. We built Tithe Connect and Giving Communities and tied in the roundups technology for Roundup Offerings, and here we are today, with an entirely new giving experience.
3000-year-old methods of giving enabled by single-years-old technology.