Smoke packs the air where I live. Just one hundred miles away from where I write this is a place called Paradise that's now been scorched from the map by a monstrous wildfire. It struck rapidly, spreading at a rate of 80 football fields per minute due to high winds and dry conditions. As of this writing, 42 people have died in California's deadliest wildfire — "The Camp Fire."
Sufficient preparations could not be made so hastily and many escaped by car in a race against roaring, sieging flames. Paradise will not be paradise for decades. Full recovery may never occur. As a result, people will be forever relocated without their most prized possessions. Rapidly, all they've built has become ash.
However, Americans will rally to shelter our neighbors in comfort and care. Let's help to fight the fear of lost futures and the threat of unmanageable recovery finances.
Sixpence is now supporting a wonderful California Camp Fire fundraising effort. Frances Lloyd reached out to Sixpence about creating a campaign to help coworkers at the hospital she works for, Shasta Regional Medical Center. Sixpence has taken joy in helping Frances to create her crowdfunding campaign. She shared:
"People have lost absolutely everything as they had NO time to pack before getting out, many of the Paradise residence are our co-workers, our work family. Please join the campaign to help raise money to help them with things they'll be needing."
These hospital workers have lost much yet have helped many. We should take care of them. Don't you agree?
How to support Frances's California Camp Fire fundraising opportunity:
1. Download the Sixpence beta app by following this link. It's currently exclusively available for iPhone and in the United States. (We're working on Android and web app options for those of you not on iPhone. It will just take some time.)
2. Follow on-screen app instructions to create an account. This will require that you attach a debit or credit card, secured through the third-party service Plaid, trusted by companies such as Venmo and American Express.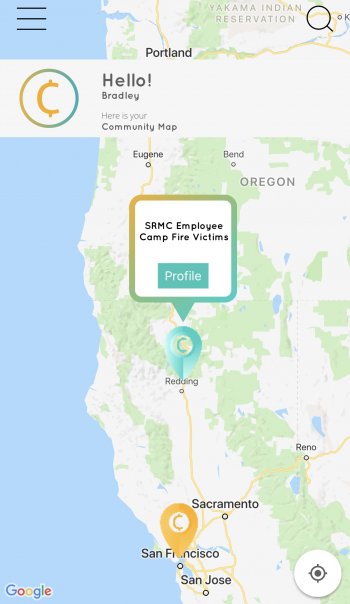 3. Search for the campaign called "SRMC Employee Camp Fire Victims." You can either move the Community Map to Northern California and click the blue pin or you can go to the "Search Campaigns" page on the app and type in the campaign name.
4. Click "Support." Then, each purchase you make with your card will round up to the nearest dollar, with the "spare change" funneling toward the Camp Fire campaign. We call this Lifestyle Giving. For example, if you spent $3.40 on coffee, $0.60 would go toward the campaign — we withdraw from your bank with every $5 raised and you can cancel your crowdfunding at any time.
These hospital workers have helped so many people. With this in mind, it only seems obvious that we should help them. Download Sixpence today to support California Camp Fire fundraising efforts.
Have questions? Check out our FAQ. Want to create a disaster relief campaign of your own? Click here.